Stylist Christy Ressel shared with subscribers her tricks and tips on how to properly organize a wardrobe so as not to harm the figure. You can start trying them on now – to be sure, you have everything you need in your closet.
This advice may seem counter-intuitive – it's no secret that many choose oversize to mask "imperfections", but a fashion expert says it's the wrong way to go. The main thing is to choose not too tight, but something that beautifully and naturally copies the lines of the body.
ADVERTISEMENT – CONTINUED BELOW

Wearing just one color will make you look noticeably slimmer. The point is that the combination of colors divides the proportions of the body, but one color, on the contrary, visually lengthens the silhouette. What the color will be is not so important – the main thing is that you are in it from head to toe.
In the cold season it can be a long coat or jacket and in the warm season a thin cardigan, shirt, jacket or maxi dress. Then, using this line, the effect of "stretching" the silhouette is created, as a result of which you look slimmer.
A beautiful accessory is always able to improve the image, but if the task is to get rid of a few kilograms, at least visually, then choose a long necklace. The main thing is that it falls below the bust – you can emphasize the waist.
It doesn't have to be decorative jewelry, even a simple chain is enough, says the stylist.
It may not be the most comfortable style of shoe, but the truth is that it can help elongate your silhouette and make you look slimmer. Do you value convenience? Then don't worry – there's no need to look for stilettos, ballet flats will do just fine (by the way, don't forget that they're at the peak of fashion now). And if you want an extra effect, then choose shoes that are close in color to your skin tone.
Look for clothing with decorative inserts
Designers have been helping us for a long time by creating clothes that create a slim silhouette. You have probably paid attention to dresses with contrasting inserts on the sides. They create the illusion that your body is much slimmer than it actually is.
Keep details to a minimum
If something has a bright pattern or print, make sure the rest of your outfit is fairly neutral. After all, such details always stop the eye, moreover, simply due to geometry, they can "expand" the silhouette. We don't need this at all! So ideally stick to more descriptive images. So you can go down a size or two.
Even more interesting materials in our telegram channel
Source: The Voice Mag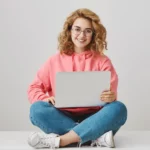 I am an experienced professional with a passion for writing and the news. I have been working in the news industry for several years, specializing in fashion-related content. As an author at 24 Instant News, I strive to cover stories that are both compelling and informative. My goal is to keep readers informed while also providing interesting content they can engage with.